There are two options to check the status of your transcript request or receipt of a transcript:
Option 1:
Step 1. Go to transcriptsplus.net/order and click on the "check the status of my order" link.
Step 2. You will need your order number and either your Social Security or Student ID number in order to proceed.

Many of our email messages will also contain a direct link to our Self-ServicePlus™ web application. Simply click the link in the email and you will be shown the status of your order.
Option 2:
Step 1. Login into BC One Access
Step 2. Select the myBC Application
Step 3. Go to the Menu bar
Step 4. Select Transcripts
Step 5. Select Transcripts Request Info OR Display Transcript Received Info
(Image of Transcripts Request link on myBC homepage)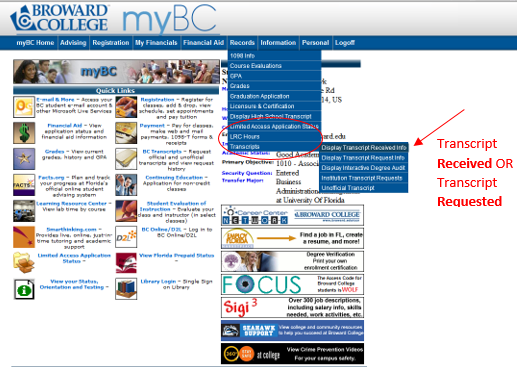 (Records and Registration > Incoming Transcripts or Outgoing Transcripts (Transcript Requests))