BC Navigate is your personalized navigational tool that will guide and support you from your first term through graduation at Broward College.
BC Navigate provides crucial resources and reminders at your fingertips. Always know what's next by staying updated on approaching deadlines or other important information by opting-in for text message reminders. Make appointments online with your assigned Academic Advisor. Explore academic programs and careers that work for you and your goals. Monitor your Academic Plan and determine which classes to register for each semester (coming soon).
You can access BC Navigate through MyBC or the Navigate –College Simplified mobile app
(Image of myBC Key Features)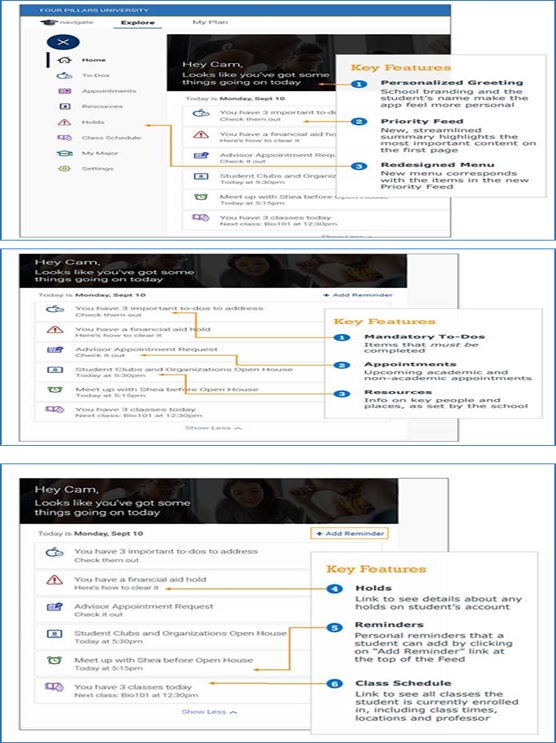 Major Explorer tool in BC Navigate
This tool allows you to explore academic programs and careers that match the goals, interests, and skills that you selected in your responses. You are encouraged to discuss the results with your assigned Academic Advisor.
The Major Explorer tool is available in BC Navigate under My Major. Click to initiate the tool. It will ask you a series of questions and generate major and career options for you to consider based on your interests, goals, and skills.
You may refer to the Major Explorer Instructions for Students here.

View Academic Plan
You can access your academic plan on the "Advising" tab located at the top of your "MyBC" homepage.
(Image of Advising tab on the myBC homepage)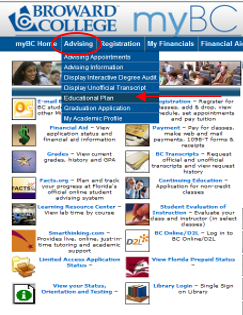 Program maps that have suggested courses full-time and part-time course plans are available at www.broward.edu/academics. Look under your Pathway, then select your catalog year, to view the correct map for your program of study.
You are encouraged to discuss your program map and academic plan with your Academic Advisor.

View Degree Audit
You can access your degree audit online the same way you access your educational plan. Educational plans and degree audits are both found on the "Advising" tab located at the top of your "My BC" homepage. Instructions for viewing your Interactive Degree Audit are available at https://students.broward.edu//resources/advising.

(Advising > BC Navigate)
(Advising > Degree Program/Program of Study)
(Advising > Graduation Status)